Dear Partner,
Effective Sep 1, 2021
Due to the recent changes in surcharges on the carrier side, we have implemented a new billing system with our resellers in mind. Invoices are now simplified and we added the option for you to pass the surcharges to your customers!
Billing simplified: No more messy invoices with too many details for each carrier, now you'll have a combined, clear surcharge per delivery method of messages.
SC SMS Surcharges (SC = Short Code)
TF SMS Surcharges (TF = Toll Free)
$0.0025 - $0.005 we created a $0.0035 average value across all carriers

Example Invoice: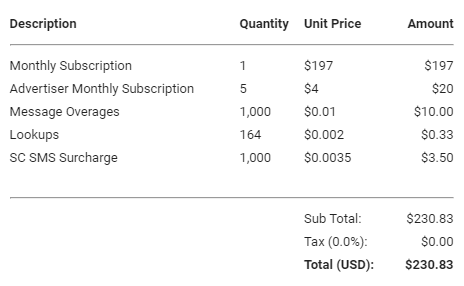 How to pass Surcharges to Advertiser: (optional)