Geo Location Widget
Geo location is the technology that can get your visitor's current location and pass that information to your mobile page. Your mobile page can then figure out which business locations are the closest to where your visitor is at that point and time.

Geo location is a great way to drive your on-the-go customers to your multi-store business.

How to use the Geo Location Widget:

First, you need to create your Location Set (or a couple of Sets). A "Location Set" is simply a list of stores / locations that you'd like to make available for a certain function:
1. Say, you have 100 stores, but only 20 of these stores offer a certain promotion. You can create a location set with these 20 stores only.
2. Or, your stores are in 3 states. On the home page you prompt your visitor to select their state (by placing 3 Link widgets each linking to their own page with a Location Set for that state).
3. Or, you can put all your stores into one set.
Second, you specify how many locations you'd like to show to your visitors when they use this feature (we recommend 2-3 locations).

Your visitors will always be able to get to all of your locations you've included in that Location Set by clicking on "View all" link.

Note: this geo location feature is not supported on Blackberries and some basic phones (sorry, nothing we can do here : ( . On these devices your visitors will still be able to pick a location by clicking on "View all".

So keep in mind: a few of your visitors will click on "View all" link (and see the list of all locations you've included in that Location Set). Therefore, if your business has a lot of locations, it is better to segment them into multiple Location Sets first.
How to configure the Geo Location Widget:
First, click the "manage" button and add new on the "Manage Location Set".

"# of closest locations to display" – this is where you specify how many closest locations you want to show to your visitor. In this case we specified "2″ locations. Here is what will happen. Your smart phone visitors will see the full info for the 2 closest locations (address, phone number, etc), followed by "View all" link to see the full list of locations in that Locations Set. Your basic phone visitors and some blackberry visitors will simply see the "View all" link.

Then fill out these fields. To determine the longitude and latitude, you can use any free longitude/latitude lookup tool (such as

http://itouchmap.com/latlong.html

).

Simply copy and paste these long numbers (including everything after the decimal points) here: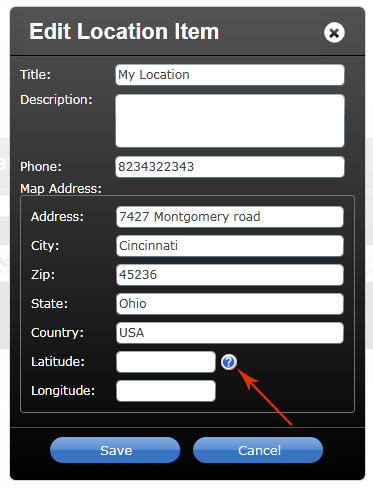 Fill in the location's address and phone number (your visitors will be able to tap this number to call you).

After filling the form simply save and publish it.
Here is the result: