Here is a step by step guide on how to use our Kiosk Builder feature through your advertiser dashboard.
To start making your kiosk, click on "Kiosk Builder" from your advertiser dashboard. When you are in, click "Create New"

First, you must select your kiosk type. If you choose "Loyalty", this will let you choose a loyalty program you have already set up. If you choose "Opt-in", customers can enter their information and join your opt-in list. You will need to have an opt-in page already created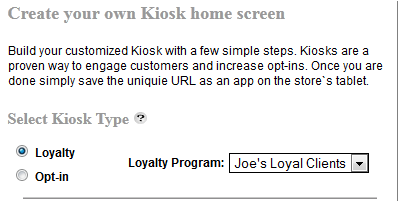 Next is where you will edit the images and coloring of your kiosk. You have the option to choose a background color, or upload a picture as your background. If you choose to upload a picture for your background, this will be in place of a background color, and the picture will be repeated images.

You can also upload an image that will serve as your logo at the top of your kiosk. You can edit the image to appear left, center or right.

You can now edit the text to your liking where it says "Top Text". You can edit the alignment, font, size and color of the text. Emphasize important words by either bolding (B), italicizing (I) or underlining (U) your words.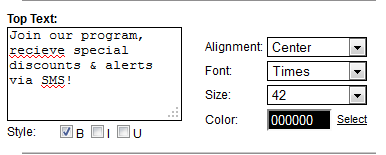 Now you can choose if your kiosk will have a "Join button" or "Punch button". Your kiosk can have both. Join will allow your customers to input their information and opt-in to your business (best for opt-in lists). The punch button is like the loyalty program, as customers can hit the punch button to keep track of how many times they visited, therefore claiming a special or prize you set up.

You can change the button color, as well as the text color by hitting

Select.

Users will be able to edit the button and text color of the buttons once a user selects "Join" or "Punch". The numbers and buttons will appear as the color you set.

A REMINDER! If you do not see your color changing (for example, the color remains black even though you selected red), make sure to adjust the slider on the right hand side!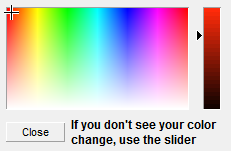 You can input text that will appear under the buttons. Customize it to say thank you or whatever else you want! It is the same as when you wrote text before, you can edit the alignment, font, size, and color. Customize words of importance by bolding (B), italicizing (I) or underlining (U) your words.

Finally, give a name to your program that you will see once you go back to your advertiser dashboard and click on "Kiosk Builder".

Remember, you can see any changes made to the tablet example on the right by pressing the "preview" button that is located top right above the tablet.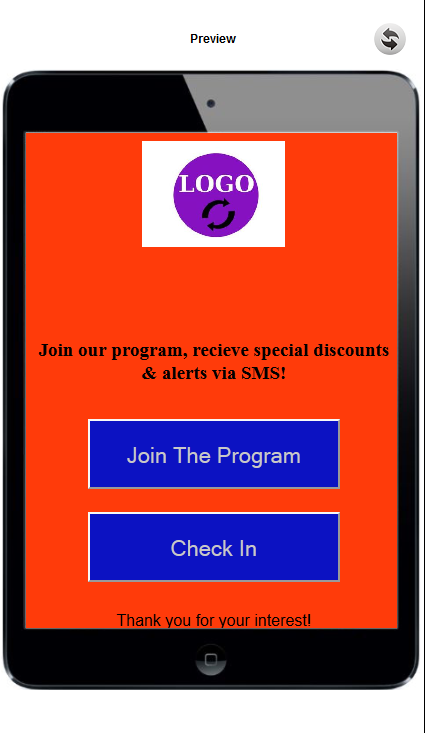 Click save and you are done!
Watch our video tutorial below: